Projects
ABC Technology Services was involved with the installation and implementation of a technologically complex "Video Wall" at Greatbach. The "Video Wall" will be used to enhance video conferencing capabilities and marketing.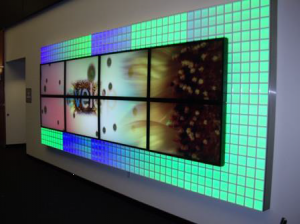 Industries Served
HIPAA readiness, medical billing software maintenance, complete practice setup, we have qualified technician to assist you with needs.
Civil, Structural and Architectural Engineering
We have been installing, configuring, and supporting AutoCAD software, including plotter configuration, for the last 14 years for our clients.
CNC configuration, software installation and integration with CAD Tools.
Building Supply Companies
Our staff has learn through the years, and has been installing and working with Lumberjack software.
MAC support, Photoshop, Adobe InDesign, Illustrator install, configuration and support. Printers install and configuration.
VOiP systems install and support, collection software installation and support, internet content filtering to prevent collectors to be surfing the net instead of doing their work.
As a certified Corel WordPerfect technician since 1996, we know how much lawyers love their Corel WordPerfect and Dragon Naturally Speaking used for dictation.
POS and CCTV installation and maintenance
POS installation and maintenance
From Projector install, sound systems and video recording setup, we can do that.